Welcome to kaizers.konzertjunkie.com! This fansite keeps you updated on all current information about the band Kaizers Orchestra. You can find the latest news, translated news bits and articles, tour dates, and tour reports. Plus all the background information a fan wants to know, of course... so enjoy!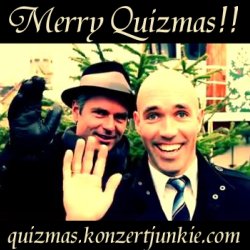 At a glance: What is going on in the Kaizers universe right now?
Kaizers Orchestra are history.
On September 14, 2013, they played their last concert. Currently there are no plans about if and when they will be back. The band members expect a break for "many years", and they don't know if and - if yes - how they will continue after that break.
Violeta trilogy
: The trilogy "Violeta Violeta - a romantic tragedy by Kaizers Orchestra" was completed with the release of Vol. III. On December 12, a vinyl box containing all three LPs, a single with two additional songs, and a photo book will be released.
Story and lyrics ...
DVD "En aften i operaen"
: One of the concerts of the live premiere of Volume III - with a symphonic orchestra and choir at the Norwegian Opera House in Oslo! - was filmed for a DVD/Blu-Ray release. The DVD/BluRay will hit the stores December 9.
Accidental Rock Star
: The documentary "Den tilfeldige rockestjerne" (The accidental rock star) is currently in the making. The film focusses on Helge "Omen" Kaizer - the rock star who never really wanted to become a rock star but ended up in the band by accident.
Information
|
Trailer
And while we're all busy trying to figure out the answers for the Quizmas calendar, Kaizers suddenly release a whole bunch of news! I assume that the news will be available in English on kaizers.no soon, so here's just a short summary:

On December 9, the "normal" version of the "En aften i Operaen" DVD and BluRay will be available. The only difference to the limited edition is the cover. There will also be a digital audio version, but this version will not be available on CD.
On December 12, a "Violeta Violeta" vinyl box will be released. The box will contain the LPs of the three Violeta albums, plus a 7'' single with the songs "Stjerner i posisjon" and "Cecilia I. Velur", which didn't make the Vol. III album. Finally, the box will contain a 152-page photo book with pictures and text by Arne Bru Haug and Geir Zahl.
You can already preorder the box from Platekompaniet or CDON.com. The price is 1699 NOK resp. 153,95 Euro, which is quite a lot - especially considering that you get "only" 4 records and one book.
The only way to get the physical version of the single is to buy the box (I don't have any information about the book). However, both songs will be available in digital form from December 24. Here's what Janove says about the songs:

"Stjerner i posisjon" ("Stars in position") is a pop song that didn't find its place on Vol. III, but that I myself like a lot. It's a floating, almost a bit Caribbean song in the verses, maybe the closest to indie that we've ever come, followed by a powerful staccato chorus in the musical genre. The lyrics are about Violeta philosophizing about the now and the life and the end of it, where you hopefully meet everyone you have known again, but also everyone you should have gotten to know.

"Cecilia I. Velur" is another great hymn in traditional Kaizer style, and it has been recorded live with just Omen on the piano, Stavanger symphonic orchestra, and me singing. Volume III had enough beautiful moments both in and outside of the songs, that's why we saved this catchy tune for the trilogy box. The lyrics are a letter signed by Cecilia I. Velur, Beatrice's maid of honor, about the complicated love relation between them.

All Kaizers LPs will be re-released (except for "Våre Demoner"). "Maestro", "Maskineri", and the three Violeta vinyls will be available from December 9. "Ompa til du dør" and "Evig pint" are scheduled for the end of the year.
There will be a web shop on kaizers.no from December 9.

Finally, it's definitely worth mentioning that Kaizers Orchestra won a P3Gull award as live band of the year last Friday. Congrats! =:-)
Well, it's that time of the year again ... December is looming just around the corner - and that means it's time for this year's Quizmas calendar! It'll start this Sunday, which means the first question will be one of the harder ones right away. Until Christmas Eve, you'll get new questions and trivia every day, and there's points to score and prizes to win. And in the end, there'll (hopefully) be a special little surprise. So have fun playing! =:-)
The "Last Dance" is over, and Kaizers Orchestra are history - it really hurts to accept that, and I'm sure that we'll all need quite some time to really understand it. But "tid kan endre alt" - "time can change everything" ...

At this time, I want to send out a huge thank you to all of YOU who are reading this site. You are the reason this fansite exists in the first place and that it is updated frequently. Thank you so much for all the kind words, via mail or in person, like at the concerts last week. It's awesome to get such great feedback, and I'm more than happy to hear that you like the site as it is. THANK YOU for all your interest, the loyalty, and the feedback! =:-)

In the future, there will less updates here for sure. But that doesn't mean that the site will die - I got quite a few things planned that I never got around to do because of the regular updates. And of course there'll be another Quizmas calendar in December! And then we'll see how long it'll take until we get the first infos about new projects ... =:-)

Looking back at the last week, here's a summary of news articles and the like for you. I guess I'll be adding new links to the list in the next couple of days; let me know if I missed something.

Concert reviews:
Opinions:
Photos:
Interviews:
Reports about fans:
Videos:

And if you want to go back and see the last Kaizers concert again, you might want to check YouTube ... =:-)